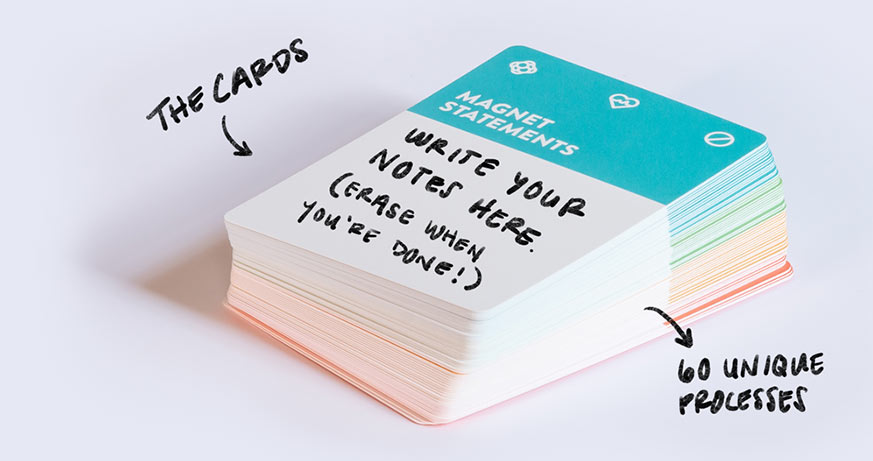 A deck for you, not your participants.
Creative facilitation made easy. 60 waterproof cards for planning, responding, improvising, and co-facilitating.
Buy Facilitator Cards
Creative facilitation
made easy.
Our mission is to help people who engage groups in process. Here's how the cards fit into that.
For Planning
Easily map out the processing tools and flow you'll use to accomplish your goals. Jot down the activity you're planning on each card. Erase or reorder — flexibility on demand.
For Responding
When a new need presents itself during a facilitation, choose from your remaining cards to react accordingly. Give your group the power to help steer the ship.
For Improvising
Have an hour left that you weren't expecting? Did your ideation activity fall flat on its face? No worries! Shuffle the deck. Choose another card.
For Co-Facilitating
Sharing a common language and a comprehensive set of tools, you can seamlessly work alongside other facilitators. Whether it's your first time teaming up or the thousandth.
Want a bigger discount?
We're happy to help! We offer easy-peasy, no-questions rebates on all multi-deck orders placed directly with us.
Order

and
save an extra

after rebate.
Get a co-facilitator (or two, or five) to order with you. Every extra deck gets you another chunk of cash back. Slide this bar and bask in the savings.
For orders of more than 9 decks, contact us for bulk pricing discounts.
How's the rebate work? It's as easy as 1, 2, 3.
1
Place an order for more than one deck of Facilitator Cards.
2
Send an email Meg & Sam, say hi (optional), ask for the rebate.
3
One of us will happily refund the rebate to your card. Donezo.
↑ What's Included?
A deck of 60 waterproof, basically-indestructible Facilitator Cards (and a box to keep them in).
Instructions for using the cards, the theory behind them, and more.
A .PDF of our book, Unlocking the Magic of Facilitation: 11 Key Concepts You Didn't Know You Didn't Know
The set of facilitator icons (that you see on the cards) you can use however you want (e.g., for your planning, or virtual facilitation).
Exclusive access to a community of card-carrying facilitators.
Facilitator Guide detailing the processes on the cards, specifically tailored for virtual (i.e. Zoom) facilitation (as soon it's published!).
And a cavalcade of facilitator resources delivered to you as we make them. As a Card-Carrying Facilitator, we'll give you access to everything we make here for as long as we are able to keep making stuff.